There's room for everyone on the nice list
Help make the holidays special for the members of Boys & Girls Clubs of Greater Sacramento by purchasing a gift for a BGCSAC member or making a donation today. While we are appreciative of the generosity we receive from community members and businesses in the way of toy drives, there are many expenses that the Club incurs to host holiday parties, special events and family dinners that make the season magical for our Club Members. Financial contributions for Santa Land go a long way in our ability to provide holiday support to our Club Members. 
Would you like to be part of the fun?  If your company or community group, or family would like to sponsor Santa Land 2018 for one of our Club sites please contact us for more information at (916) 392-1350.
If your company or family would like to participate in our "Adopt a Family" program to bring some holiday cheer to a family in need, contact us at (916) 392-1350.
Please note, all toy/gift donations must be received at the Club by Friday, December 13, 2019, to ensure that they can be distributed to Club Members before Christmas. Donations can be dropped off or mailed to our Administrative Office: 5212 Lemon Hill Avenue, Sacramento.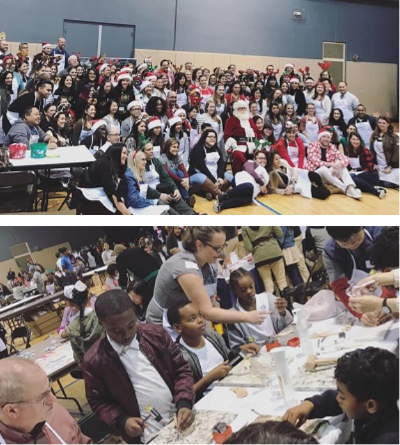 15 Years of We Care
For the last 15 years, MTA has sponsored their annual "We Care" Christmas and crafts party for our Teichert Branch Club Members! Our kids and teens look forward to the We Care event all year long. With 20 participating companies, We Care sets up a variety of craft stations and helps our Members make special gifts for the Holidays. This event is especially meaningful since our kids don't always have another way to give their families a gift, and We Care provides the opportunity to have fun and feel proud of their creations!