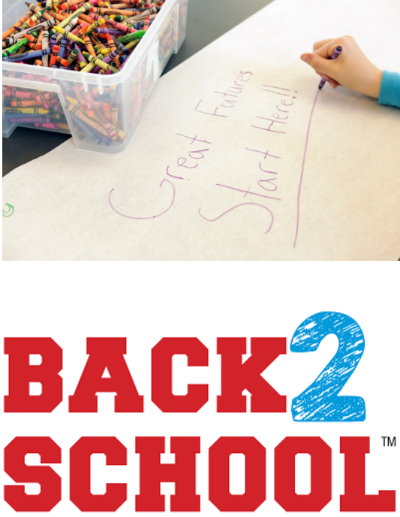 Back to School is almost here and we need help stocking the Club with supplies
Your tax-deductible in-kind donations can considerably offset the cost families incur as kids go back to school. We are collecting school supplies to give to Club kids at our Back 2 School Bash, and we'd love to have all the supplies at our office by August 16th. Please call our Administrative Office at (916) 392-1350 if you have any questions.
Common supplies students need:
●  Crayola crayons and colored pencils
●  Crayola washable markers (thick)
●  #2 pencils (Ticonderoga), pencil sharpeners, and erasers 
●  Ballpoint pens and felt-tipped markers 
●  Highlighters
●  Dry-Erase markers  
●  Binder paper (wide ruled and college)
●  Spiral notebooks and composition books
●  Pocket folders
●  1-inch and 2-inch binders (D-ring)
●  Pencil box (8 in. x 5 in. x 2)                                 
●  Student scissors
●  Dividers
●  Glue sticks (large and small)
●  Rulers
Other supplies to consider
●  Backpacks and lunch bags
●  Socks and shoes
●  Facial tissue
●  Disinfecting wipes and hand sanitizer
 
Purchasing items from our Wish List is easy!
Take a look at our "Wish List" to see what supplies, materials, and other items are needed for our Club programs and general Club upkeep. Your donation of in-kind products is greatly appreciated and helps us to ensure the highest level of programming for our Club Members. 
1. Take a look through the Boys & Girls Clubs of Greater Sacramento Amazon Wish List
2. Select the Boys & Girls Clubs of Greater Sacramento address (5212 Lemon Hill Avenue, Sacramento, CA 95824)
3. Leave us your name and address in the gift message so we can send you a thank you letter
4. Enter your name, address, and credit card information in the billing section
5. Hit purchase to send your donation to the Club!                                                                                                                                        
For any questions regarding an in-kind donation to the Club, or if you wish to purchase items offline and deliver them, please contact Virginia Isble, Chief Development Officer at 916-392-1350 or visble@bgcsac.org.
Thank you for supporting Club kids and teens this school year!
 
Did you know that BGCSAC is an AmazonSmile Charitable Organization?
About AmazonSmile
When customers shop on AmazonSmile (smile.amazon.com), the AmazonSmile Foundation will donate 0.5% of the price of eligible purchases to the charitable organization selected by customers.
How do I select a charitable organization to support when shopping on AmazonSmile?
On your first visit to AmazonSmile, you need to select a charitable organization to receive donations from eligible purchases before you begin shopping. Amazon will remember your selection, and then every eligible purchase you make on AmazonSmile will result in a donation.
Click here to select Boys & Girls Clubs of Greater Sacramento
Every time you shop from Amazon with your AmazonSmile account, The Club will get .5% back from your purchase!