Want to help spread Holiday cheer?
The Holiday Season is a fun and magical time of year, but it can also be extremely stressful for families who don't have any extra room in their budgets for gifts. There are several ways you can help make the Holidays special for BGCSAC Club members and their families. Please contact Kimberly Key at kkey@bgcsac.org or (916) 392-1350 if you are interested in getting involved and giving back this Holiday Season.

Toy drives
Are you, your office, or your group interested in donating new toys for the Club's Holiday Toy Drive? By providing unwrapped toys for kids ages 6-18, you can help ensure that every Club kid has something special this Holiday Season. We distribute the toys to Club kids during holiday parties at each of our Club locations and it is magical to see them pick out a toy that lights up their faces! Need help with gift ideas? Check out this list >

Gifts for the whole family
We have many families who are just not financially able to buy presents for the Holidays and you can make all the difference! If you are interested in helping out a whole family, we can pair you with a family who needs extra support. Please contact us to get started in the process and receive the information you need to make a family's Holiday cheery and bright.

Holiday crafts
Another way to help spread Holiday cheer is to put together crafts or kits for the Club to distribute to kids. Some ideas include hot chocolate and cookie kits, cupcake mix and decorating supplies, or small projects to create. Please contact us before you get started as we have specific requirements for food items.


PLEASE NOTE
All toy/gift donations must be received at the Club by Monday, December 18, 2023, to ensure that they can be distributed to Club Members before the Holidays. Donations can be dropped off or mailed to our Administrative Office: 5212 Lemon Hill Avenue, Sacramento.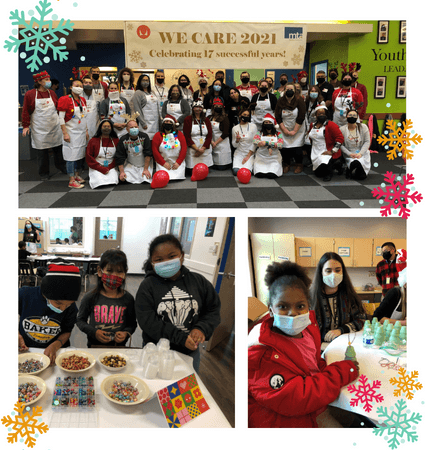 We Care - Holiday Magic-makers!
For the last 17 years, MTA has sponsored their annual "We Care" Holiday crafts party for our Teichert Branch Club Members. It's the event our kids and teens look forward to all year long! Even with widespread school and Club closures in 2020, over a dozen We Care participating companies quickly organized crafts in beautifully wrapped packages for kids to take with them during our Holiday Drive-Thru event.

This year, we are eager to see the new crafts our We Care friends have created for our Members to make for special Holiday gifts. This event is especially meaningful since our kids don't always have another way to give their families a gift, and We Care provides the opportunity to have fun and feel proud of their creations!