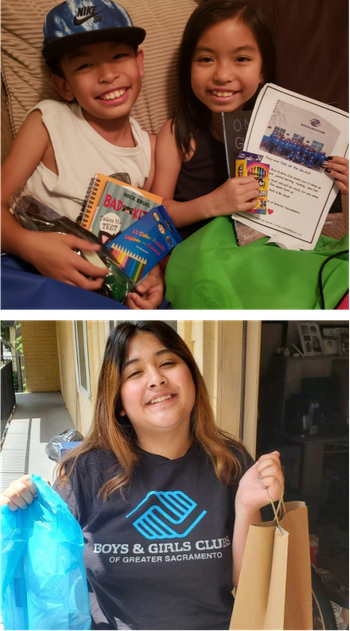 Response. Recovery. Resilience. And Return.
Keeping kids connected to the Club programs and resources they rely on has been the goal since March 2020, and with the generosity of our community supporters, we have been able to do just that. Staff members have shown incredible creativity and ingenuity as they adapted programs to fit the ever-changing needs of kids through sheltering at home and then distance learning. Staff mastered new video editing skills to support virtual programs as well as walked Club youth through the key computer skills needed to be successful during distance learning. Staff not only reinvented program curriculum to work as "packets" delivered to their homes, but also supported kids throughout the school day during online classes. Despite the challenges of COVID-19, staff had the opportunity to strengthen their relationships with our Club families to make sure parents and kids had the support they needed at home.
Keeping kids connected
Through Club Connect, we pivoted our programs to continue to prioritize health, safety, and education in order to meet the needs of our Club members. With community support, we are able to:
●  Deliver weekly Club kits filled with academic packets from STEM to literacy, books, healthy snacks, and activities to keep kids learning and engaged.
●  Launch online Club programs to support kids virtually.
●  Make wellness calls to ensure that Club kids and their families have what they need.
●  Provide food boxes filled with fresh produce and meat to help families' strained budgets.
●  Ensure that families have the resources they need to stay healthy.
And although schools and Clubs are back open, and we're able to provide in-person programs again, we're keeping Club Connect going for the Club youth and families who need additional resources. As always, we aren't doing just one thing at the Club, we're doing whatever it takes to serve our kids, families, and communities.
Coming back stronger
We still have a ways to go to help kids recover from the many impacts of the COVID-19 pandemic, some of which will be felt for years to come. Through all of our programs and services, we are focusing on mitigating learning loss and strengthening the social and emotional health and wellbeing of our youth. Everything we do is aimed at helping kids and teens build their resiliency to overcome challenges and come back stronger than before. Over the past year and a half, we learned that when we work together the Great Future of every Club member is indeed possible.
,