Responsive. Resilient. Remixed – Broke Ball has a new look!
Given the unprecedented challenge of COVID-19, Broke Ball 2020 needs to look a little different, thus Broke Ball Remix is our opportunity to come together virtually to stand up for the kids who need us most.
Although it won't be in person with you in June, we are celebrating 20 years of our Thomas P. Raley Teen Center and the impact the Raley and Teel Families have had for thousands of youth. Just like the Family's initial investment that helped establish the Club in Sacramento and transformed the resources available for youth, their ongoing support helps Club members access the academic support, leadership development, and healthy lifestyles necessary for building great futures. You are an ongoing part of this community safety net too!
Virtual Emcee
Patrick Harbison, Patrick Harbison Public Relations
Virtual Keynote Speaker
Mona Dixon, Teen Empowerment Leader and & Keynote Speaker
 
---
Now, more than ever, our Club kids need us to continue to invest in the supports that they rely on, especially because the future is so uncertain. Broke Ball provides this crucial investment.
---

Your Broke Ball Remix Sponsorship makes all the difference!
Legacy: $20,000
Champion: $10,000
Partner: $5,000
Advocate: $3,000
With your sponsorship, you are raising critical funds that support Club on the Go, our innovative response to serving Club kids during the COVID-19 pandemic and temporary Club closure.
We will keep adding information to our Broke Ball Remix page, so please keep checking back in often! We have lots of impact stories to share as we are able to continue to provide crucial services for Club kids thanks to our community supporters like you. For more information about Broke Ball Remix, contact Virginia Isble at visble@bgcsac.org.
 

Appreciation Event
We are excited to celebrate with all of our dedicated supporters, and as a way to say thank you in person, we will be holding an appreciation event at a later date this year. Please stay tuned for more information!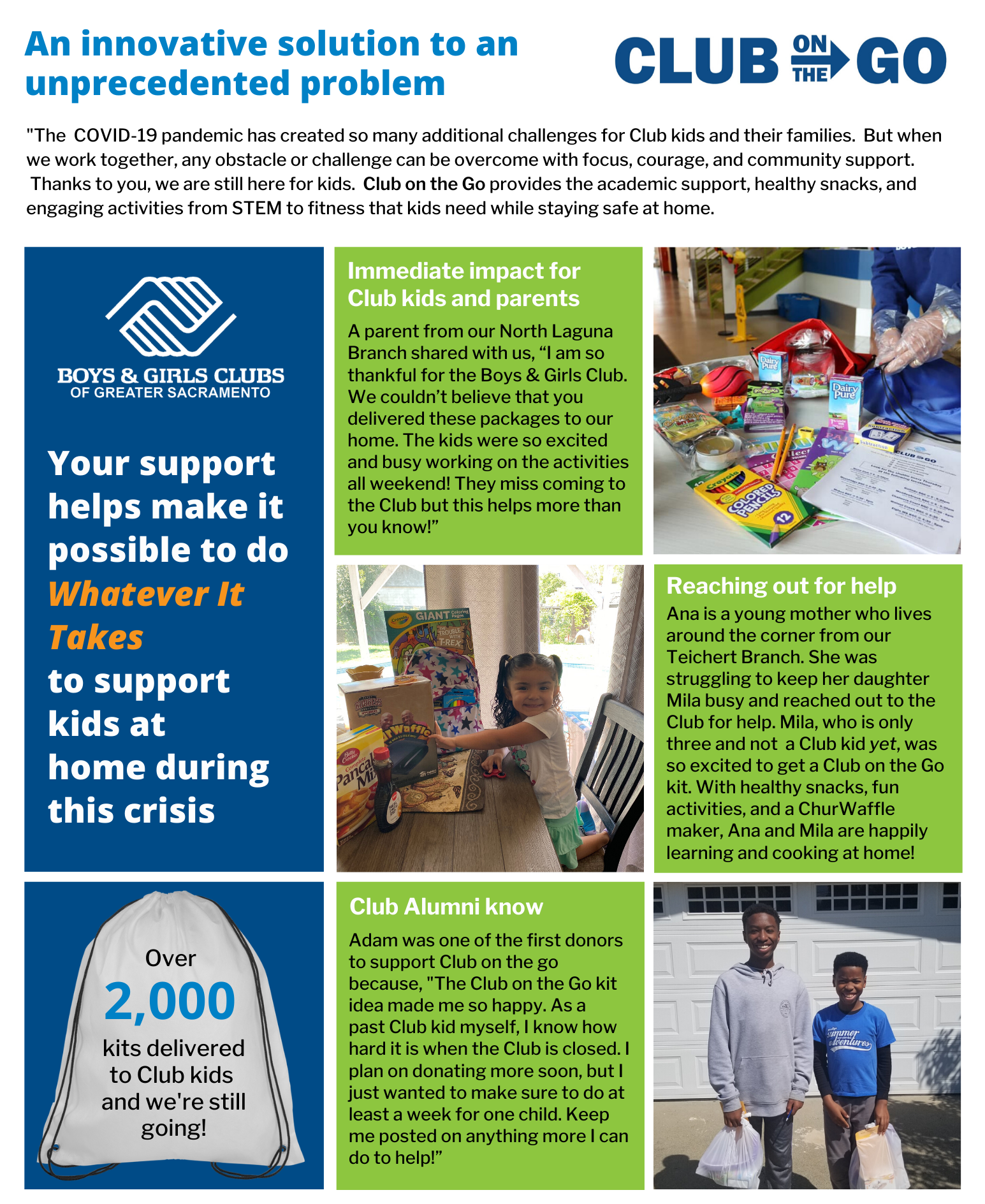 The Broke Ball Story
Broke Ball is the signature event of the Boys & Girls Clubs of Greater Sacramento, named by Fred Teichert and his daughters. Broke Ball's unique name stems from a play on words. When the Club began services in 1996, at a time when the Baroque Ball was the premier event in town, the Teichert Family and founding BGCSAC Board members sought to hold a fundraising event that was all about low event overhead, casual dress, simple food, fun, and friends. Thus, the Broke Ball was born.
Now 23 years later, Broke Ball is still 100% in the spirit of everything we do at the Club. It's casual, fun, and showcases what the Club means to thousands of youth across the Sacramento region. With minimal event costs, Broke Ball provides a significant source of core mission support to enable the Club to provide innovative programs that are designed to help youth excel in school, become good citizens, and lead healthy, productive lives.