Stockton kids need the Boys & Girls Club now more than ever
It's critical that we meet kids and families where they are, and create access and opportunity for all, especially those who need us most. We are excited because with our partners at the Housing Authority of the County of San Joaquin and our Stockton Advisory Council, we are bringing the Boys & Girls Club to Stockton youth. With the ongoing impacts of COVID-19, the Club has been delivering weekly Club Connect kits and fresh food boxes to over 100 Club members and their families. This has been a wonderful opportunity to develop relationships with our Stockton families and to provide the fun, empowering, and critical resources they need. We are also thrilled to have youth join us this school year for in-person programming! By harnessing the generous support of our community, kids at Sierra Vista have access to life-changing programs, critical resources, and the opportunities needed to stay on track for their Great Futures.
.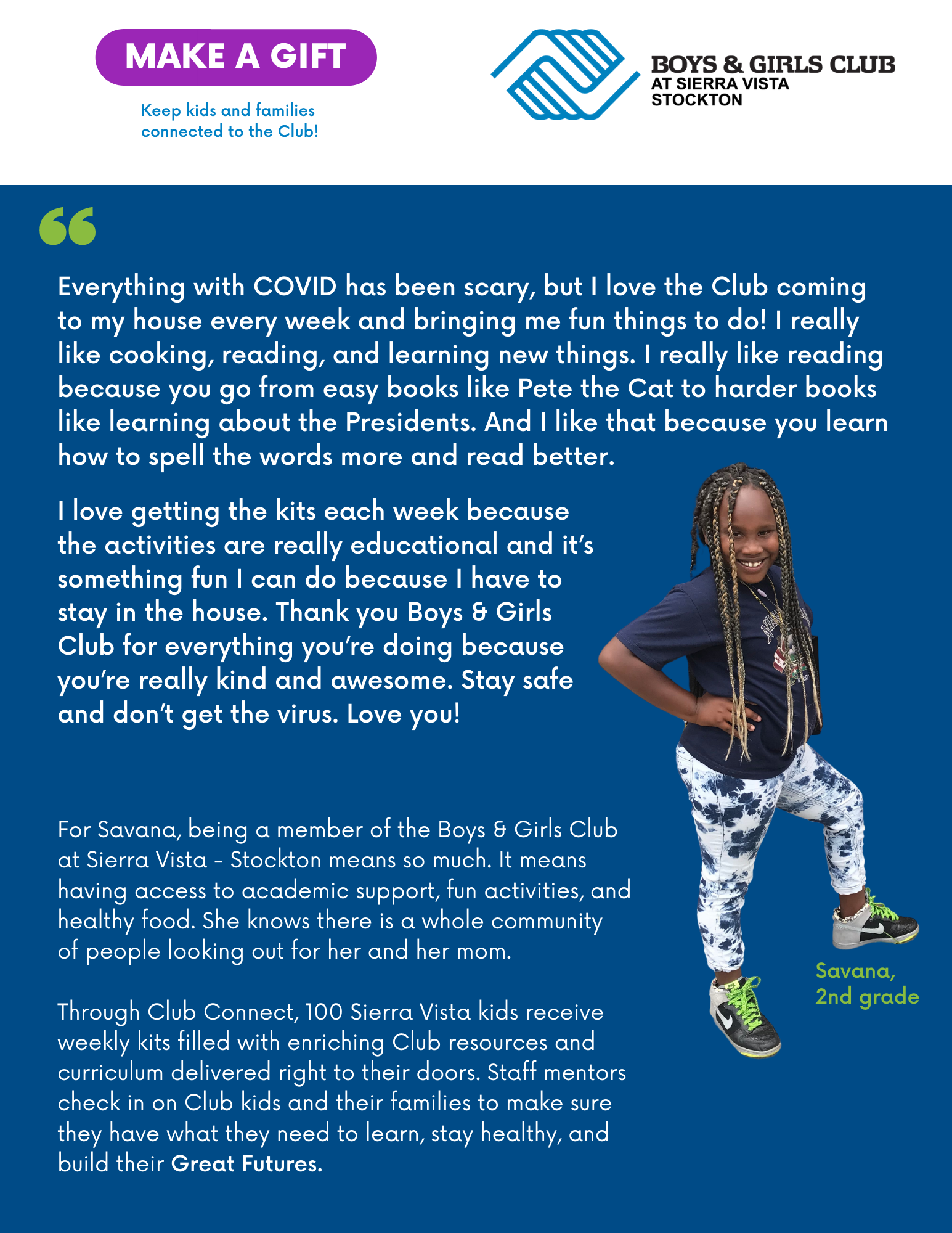 Expanding to Sierra Vista
The Boys & Girls Club at Sierra Vista is the first Stockton Club site to be charted by Boys & Girls Clubs of America, and we couldn't be more excited about these expansion efforts. The Clubhouse facility at Sierra Vista is currently undergoing renovations and is expected to be completed in Fall 2021. In the meantime, the Club will continue to provide weekly deliveries of program materials and will begin to facilitate small group in-person programs as soon as it is safe to do so.
This is where we need your help, to support Club Connect and keep Club youth connected to all the Club resources that matter most. Especially right now, during a time where a global pandemic continues to create countless additional challenges for our youth – from food insecurity to a widening learning gap. As we continue to adapt and innovate Club programs to meet the needs of our youth, your donation is critically important. Your support today keeps the kids who need us most connected to the Club. Let's do this together!
For more information on our Sierra Vista Club, please contact our Administrative Office at (916) 392-1350. Thank you!
 
BGCSAC Stockton Advisory Council
Kevin Redick, Chair I Alan Korsgaden I Diane Correia I Erica Frey I Stephen Reid I Shannon McGovern I Sylvester Aguilar