Excited to extend our reach!
Sierra Vista is the oldest multi-family public housing developments in Stockton, serving approximately 394 families. We are excited to partner with the Housing Authority of the County of San Joaquin to provide the kids at Sierra Vista with the opportunity to learn and grow through homework help, sports, the arts, and more during the critical after school hours. 
 
Stockton kids need the Boys & Girls Club now more than ever.
One hundred percent of Sierra Vista kids come from low-income households, and with the COVID-19 pandemic, families are facing even greater economic stress than before. Kids and families rely on the Boys & Girls Club for all types of support, and even though schools are temporarily closed, we are committed to being there for them.
Through Club on the Go, we are helping to keep our kids on track academically by providing weekly kits filled with grade-level appropriate books, learning worksheets from our core program areas including math and literacy, puzzles, coloring supplies, and games. Kits also include healthy snacks so kids have the energy to keep learning while helping to alleviate already strained family budgets. Each kit is delivered to Club kids' doorsteps to keep them safe inside, which also gives Club staff the opportunity to check in with kids and let them know we are thinking about them! We are doing whatever it takes to support kids, but we can't do it alone.
Community support keeps Club on the Go going! By making a donation to the Club during this unprecedented time of need, you are part of the solution for hundreds of Stockton kids.
For more information on our Sierra Vista Club, please contact our Administrative Office at (916) 392-1350. Thank you!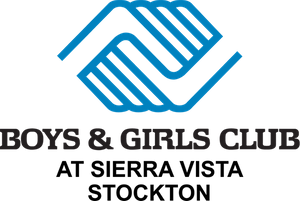 .