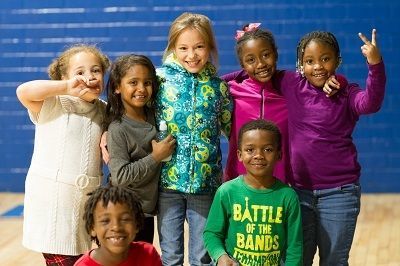 The opportunity for growth is the chance to make real change for youth

"For 25 years, the Boys & Girls Clubs of Greater Sacramento has been a cornerstone of support – a lifeline – for youth across our region. I am incredibly proud of how Club staff and supporters have shown such dedication, ingenuity, and creativity in advancing our mission over the years. And to not only thrive but grow our service footprint during a global pandemic is truly inspirational. All of us at BGCSAC are thankful to be building Great Futures together." – Kimberly Key, CEO
 
Stockton
In 2020, we announced our expansion to Stockton. We are continuing to serve over 100 youth at Sierra Vista, the oldest multi-family housing community in South Stockton, and we're excited to grow this number when the renovations to the Club site are completed. Since May 2020, we have been providing Club Members with curriculum packets, activities, food, and PPE supplies through Club Connect. This school year at the Club, there are fun and engaging activities for Club kids to get help with their school work, get creative with art and STEM projects, and build healthy habits. With renovations plans in the final stages, we are looking forward to showing off our newest Sierra Vista Clubhouse, complete with a technology hub, dedicated teen space, and art room, at the 2022 grand opening.
We have some exciting news! California Water Service is donating $200,000 to support Boys & Girls Club youth in Stockton! These funds will provide for a STEM (science, technology, engineering, and mathematics) lab and program at the Club's Sierra Vista site and at a second proposed Club location at Conway Homes. Read the full media release here >
Find out more about our Sierra Vista Branch >
Rancho Cordova
We are also excitedly planning our increased impact in Rancho Cordova. We have served Club youth at Navigator Elementary since 2018 and now have the opportunity to serve more kids. The Rancho Cordova Youth Center- a partnership between the City of Rancho Cordova, the Boys & Girls Club, and the Rancho Cordova Police Activity League (PAL) will serve 150 youth ages 6-18 years old. The Youth Center will provide a welcoming and safe environment for year-round youth programs and show local youth how much the community cares about their success and Great Futures in Rancho Cordova.
Woodland
The newest opportunity to serve more youth in our region is in Woodland. Spearheading our expansion effort is an Angel Investor who has deep roots in the Woodland community and is very excited to see more supportive services for the City's youth. We are in the initial stages of converting a 25,000 square foot facility into a beautiful Boys & Girls Club. And in partnership with the City of Woodland and Yolo County, we are eager to begin programs and services for 150 Woodland youth, ages 6-18 years old. BGCSAC founder, Fred Teichert, recently expressed his joy when he learn of our newest expansion efforts saying how a Boys & Girls Club in Woodland has always been part of his vision! Stay tuned for more news on our developments on the Woodland Club project.